Posts Tagged 'Filing for Divorce'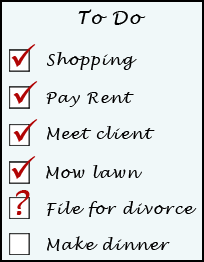 There is no "one size fits all" answer as to whether you should be the first to file for divorce. There are various reasons why it may or may not be to your strategic advantage to be the first to file. You might even think of it in sports terminology: Do I play offense or defense?
Some of the reasons that you may want to file first include:
1) A likely decision by the Court that is favorable to what you are seeking;
2) A need to finalize the divorce as soon as possible to allow for remarriage;
3) A psychological need to end the marriage as soon as possible in order to move on with your life;
4) A need to send a clear and unequivocal message to your spouse that "the marriage is over and that there is no hope for reconciliation";
5) A need to force your spouse to vacate the marital domicile;
6) A need to put into place orders to protect marital assets;
7) A need to obtain orders for alimony or child support;
8) A need to obtain an order for child custody or to ask that you be allowed to remove the children from the current state of residence;
9) A need to expedite the sale of a marital home or other marital property.
Conversely, some of the reasons that you may not want to be the first to file for divorce include the following:
1) A likely decision by the Court that would not be favorable to you (and the possibility that you might be able to arrive at an agreement with your spouse that would be signifcantly better for you than what the Court would order in your circumstances);
2) Situations where the current support being provided by your spouse is more than you could reasonably expect the Court to order;
3) When your spouse is gravely ill and you want to preserve an interest in their portion of the marital estate;
4) Situations where your spouse is in a "hurry" to finalize a divorce (either for psychological reasons or for a desire to remarry) and you gain a tactical advantage in negotiating an agreement from their haste to resolve the matter as quickly as possible;
5) When you believe the marriage is still salvageable.
With the exception of the analysis of your particular situation and likely outcomes by the Court, most of the above is fairly straightforward. An experienced divorce attorney that understands the tendencies of the Courts and judges in your particular jurisdiction should be able to study your particular situation, perform this analysis and advise you as to your best course of action.